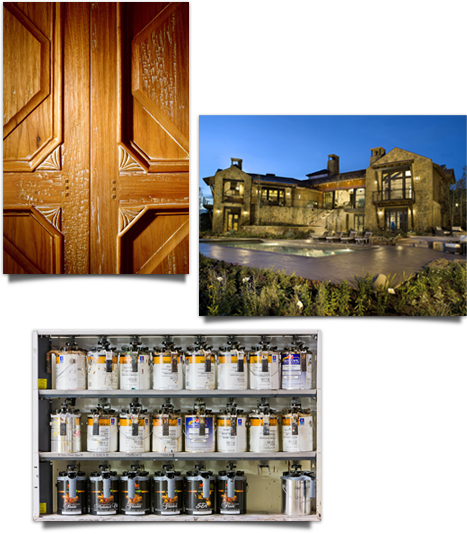 Our job was very small, one that most painters would just do quickly and move on to the next bigger, more expensive job. Not these guys. They were incredibly professional and careful, like this was the most important job ever. if you want cheap (which really means...
Sherry Mansfield, Homeowner
Read More »
Color Consulting
Swanepoel Painting can help you create the perfect color, texture or decorative finish for that special room or your entire home. We do our own custom stain matches.
Hand Troweled Plasters
We use lime putty-based finishes that mature into limestone using very old and almost forgotten techniques.
Earth Clay Finishes
The organic earth clay finishes are a nice compliment to today's Green Build movement and stand out from the rest.
Old World Hand Applied Finishes
Whether it be wax, shellac, urethane, oiling or French wax, we can match different applications with different eras and come up with the perfect finish.
Decorative Wall Finishes
We provide creative finishes, tastefully done, commonly referred to as "background music" to compliment a good design. These finishes are all done in our state of the art shop.
Residential Painting
Interior and exterior - whether it's new construction or a repaint, we will work with you until you get exactly what you want.
Commercial Painting
We provide commercial tenant finishes, whether it be a hotel, a school, a new office or a store front.
Maintenance
When a project is completed, we maintain a long-term relationship with the owners to help them maintain their investment or dream.
Faux Decorative Finishes
Whether it be refinishing your cabinet or a furniture piece, or just to freshen up an existing piece, Swanepoel Painting takes pleasure in researching the era your piece was built and duplicating those finishes.
Wood Finishes
Some of the specialty wood finishes we use include shellac, wax, oil, urethane and lacquer.
Environmentally Friendly
We pride ourselves in being a green company and experimenting with many different products that may be suited for your project.
Pre-finish Shop
Our state-of-the-art finishing equipment caters to all the needs of our clients. We are equipped to pre-finish doors, trim, cabinets, furniture, beams, siding and much more. We also pride ourselves in excelling in the old world staining techniques and fumed wood tannin color changes.